Up-and-Coming Real Estate Markets to Watch in 2022
The year 2021 was a wild ride for real estate investors and professionals. It was plagued by a shortage of construction materials causing the cost of new home constructions to go through the roof. In addition, the interest rates hit rock bottom causing the demand to skyrocket, which resulted in the perfect storm for increased home values and bidding wars. The year 2022 signals a new start for the industry and if you are looking to invest now, make sure to keep an eye on the up-and-coming real estate markets to watch in 2022. 
8 Up-and-Coming Real Estate Markets in 2022
Whether you are a first-time investor or you want to use this time of recovery as an opportunity to beef up your investment portfolio, make sure to focus your search on the top real estate markets that experts have predicted for 2022. This is a list of the top cities with an outstanding real estate market potential this year.
1. Baltimore, Maryland
The pandemic and the economic crisis that followed did not seem to affect the real estate market in Baltimore. At the start of 2021, there was a significant decline in the unemployment rate causing the housing demand to soar. As the largest city of Maryland, the demand for real estate in Baltimore has always been consistently performing well. 
There are lots of employment opportunities in the city making it the best place to live for young, educated, and dynamic individuals looking to start their professional careers. It is also one of the historic cities of the East Coast so there is a lot of culture and architecture. 
Some of the top drivers of the real estate market in Baltimore are the low-interest rates, huge student market, large working class population, a variety of tourist attractions, and lots of employment opportunities. 
2. Salt Lake City, Utah
The capital city of Utah, Salt Lake City, is listed as the 10th best place to live in the country by US News. This city offers limitless recreational and outdoor activities such as hiking and skiing. Plus, there are plenty of national parks and unique land formations. 
The real estate market of Salt Lake City is just as attractive. The home prices are projected to go up by 8.5% in 2022. The population growth rate in SLC is also steadily growing, giving you more reasons to invest here. 
3. Austin, Texas
Even before 2022, Austin was slowly emerging as one of the top real estate markets in the US. This trend will continue this year, as experts predict. This growth in the Austin real estate market is fueled by a vibrant job market and economy that relies on the tech industry, which is one of the fastest growing industries. The high appreciation value of the homes in Austin also means that it is a great choice for anyone looking to grow their wealth through real estate. 
4. Tampa, Florida
Tampa is a vibrant metropolitan area in the state of Florida. As such, it also has a thriving real estate market with an especially impressive record in 2021. The city of Tampa has undergone many developments in the past few years and there are more set to take place in the coming years. 
Real estate experts predict continued appreciation in value for these properties within the next year or two. Proof of this is the 5.4% growth in home values in Tampa. 
5. Charlotte, North Carolina
The city of Charlotte is a popular tourist destination in the US among local and international tourists. Now, there is more reason to invest in Charlotte's real estate market as it is considered as one of the up-and-coming real estate markets in 2022. 
The popularity of Charlotte is accentuated by the fact that the cost of living in this city is 5% below the national average. Thus, there are a lot of reasons to move here. At the same time, it has a desirable climate and is the second-largest financial capital next to the city of New York. 
6. Palm Springs, California
At the height of the pandemic, domestic tourism was higher than ever. Palm Springs is one of those destinations that yielded higher revenue. The real estate in Palm Springs holds a lot of potential giving interested investors the incentive to come to the city for more than just a quick visit or getaway. 
Palm Springs offers a lot of recreational opportunities for tourists and residents alike such as shopping, dining, and leisure. This makes it a profitable market to invest in 2022. 
7. Denver, Colorado
Denver is a city that is consistently one of the top ranked real estate markets in the US. For 2022, the story remains the same as this market has always been robust with lots of competition and homes sold at varying price points. This makes it a suitable option for would-be investors because you can find a property that is suited to your budget. 
Denver is also home to many companies across various industries which provide employment opportunities for its residents. There are also lots of new home builders looking to meet the rising demand for homes in the area, giving investors lots of options. The projected population growth rate in Denver for 2022 is 1.1%.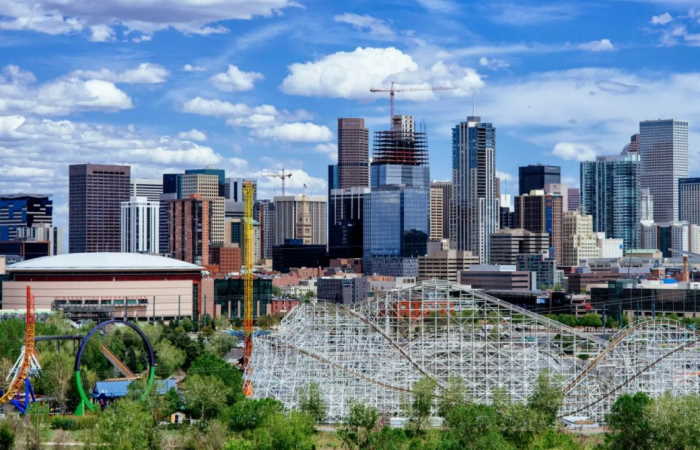 8. Nashville, Tennessee
Known as the music city, Nashville is a thriving real estate market. It continues to attract people to move here because of its music industry, vibrant nightlife, and a bustling array of dining options. There is also a lot of history to this city, and it is very safe with a low crime rate. 
These reasons add up to why people looking to move to the South choose the city of Nashville. If you are also looking for a city with real estate investment potential, look no further. 
The Bottom Line
The decision on which market to invest in when it comes to your real estate portfolio is a tough call. You have to take note of historical data and trends in order to make your decision with confidence. It also pays to assess what the experts say as they are the ones who know the market best from inside-out. You can start your real estate investing journey with these up-and-coming real estate markets in 2022.