Up-and-Coming Neighborhoods in Baltimore
If you are looking to move to the East Coast to a city that is affordable with plenty of employment opportunities, unique architecture, incredible history, and a vibrant arts scene, consider Baltimore. While there are many other popular cities in the area, such as Philadelphia or Washington DC, there are several up-and-coming neighborhoods in Baltimore. These neighborhoods are currently selling low, but have a huge potential for growth in the future. 
Top 6 Up-and-Coming Neighborhoods in Baltimore
Moving to Baltimore? Check out the hottest neighborhoods in the city. Some of these options have been growing steadily over the years and a few might surprise you. 
Federal Hill
Federal Hill kicks off the list of the best up-and-coming neighborhoods in Baltimore because of its hip atmosphere and waterfront views. This neighborhood is also highly walkable, so it is a good option for anyone who relishes the experience of walking to and from work and other destinations. There is nothing to be worried about doing that though, knowing that it has a relatively low crime rate compared to other cities or neighborhoods in Baltimore. 
Federal Hill is located south of Downtown Baltimore and is known for its short commutes to the city. Anyone who is familiar with this neighborhood envision the beautiful houses along the waterfront. The Cross Street Market serves as the hub for dining, nightlife, and entertainment, making it a good option for singles and young professionals. 
The average home price in Federal Hill is $302,082 with a median monthly rent of $1,486.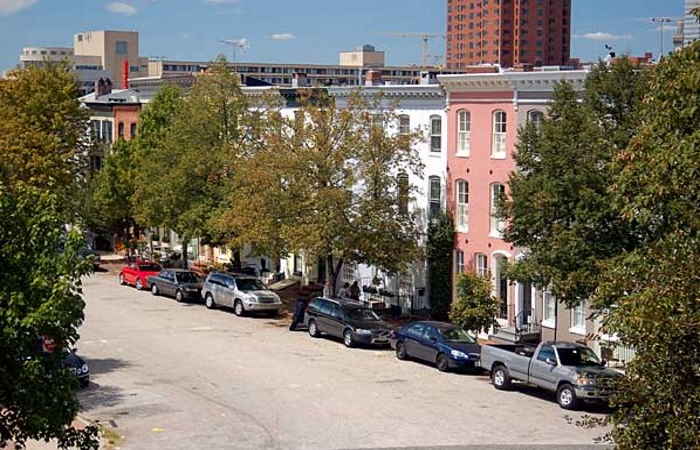 Mount Vernon
Mount Vernon is known as the home of the Washington Monument in Baltimore. But if you're not into historical landmarks, there are still plenty of reasons why this is one of the best places to live in the city. For one, the neighborhood is highly walkable. It also has an outstanding public transit system that makes for a short commute to Downtown Baltimore. 
Anyone who is looking to move to Mount Vernon can choose from a variety of attractions and things to do. From museums to churches, parks or pubs, there is something for everyone here. It is also noted for its affordable lifestyle! 
The affordability of Mount Vernon is evident in the real estate market. The average home price is $210,163 while the average monthly rent is $855. 
Hampden
Hampden has a lot of pluses for anyone who wants to move to the best neighborhood in Baltimore. It has a good public transport system, so it is easy to get to other points of Baltimore. In addition, it has plenty of parks and dog-friendly areas for pet owners. There are many trendy spots such as shops and restaurants. 
There are also several ongoing redevelopments in the Hampden area and new companies opening their doors, which means new job opportunities available. Historically, Hampden was the center of textile mills and factories in Maryland. Over the years, it has evolved to become a haven for mixed-use buildings, and there are a ton of new apartments in the area too. 
The average home price in Hampden is $276,725. 
Fells Point
Fells Point might be one of the oldest neighborhoods in the city of Baltimore, but it is still an up-and-comer in the real estate scene. The appeal of the old neighborhood with its cobblestone streets, brick townhouses, and harbor views is finally getting the attention that it deserves among potential home buyers. 
While the neighborhood of Fells Point has preserved its colonial-era character, do not be deceived to think that living here would be like stepping back in time. There are several hip and young spots for the young professionals and singles that might consider living in this neighborhood. For one, it has an excellent dining scene, especially those looking for the best seafood restaurants in Baltimore.  The young, urban dwellers will also get plenty of options when it comes to shopping and nightlife. 
When it comes to safety, this is one of the safest neighborhoods in Maryland. The average selling price for homes in Fells Point is $295,582 and the median monthly rent is $1,362.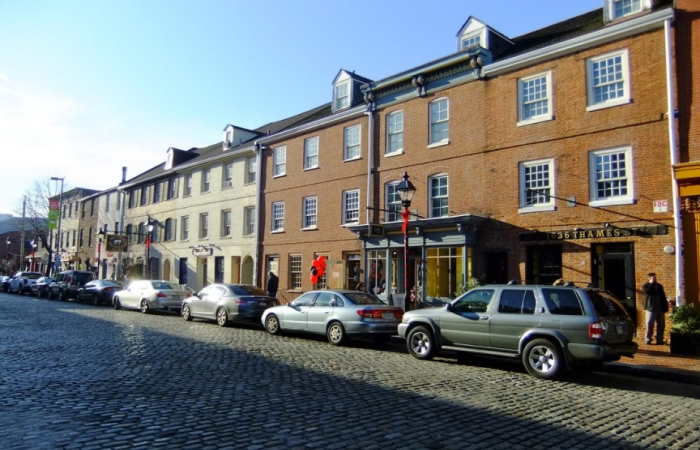 South Baltimore
This is a great neighborhood for singles and young professionals. The majority of the residents in South Baltimore range from the age of 25 to 34. It is also strategically located since it is close to the Inner Harbor, making it one of the best neighborhoods in Baltimore. 
In addition, South Baltimore is an extremely safe neighborhood with affordable housing. The community is very friendly, and it is highly walkable too. In terms of public transportation, it is cheap and convenient, which makes it easy to get around. 
There is no shortage of things to see and do in South Baltimore, so there is no need to travel far to enjoy basic luxuries in life. There are several restaurants, dive bars, a park, a casino, and stadiums in this neighborhood. 
The average home price in South Baltimore is $257,315, while the average monthly rent is $1,884. 
Mid-Town Belvedere
Next on the list of up-and-coming neighborhoods in Baltimore is Mid-Town Belvedere. The real estate scene of this neighborhood offers variety in terms of the types of properties such as condos, townhouses, brownstones, and apartments. In addition, the neighborhood has an efficient public transit system that makes your daily commute relatively easy and convenient. 
The Mid-Town Belvedere area is also home to two major educational institutions: the University of Baltimore and the Maryland Institute College of Art. Therefore, it is an excellent choice for anyone who is studying or wants to study in these institutions. There are also plenty of recreational opportunities and services available in this area such as cocktail bars, nightclubs, concert halls, and breweries. 
The average sales price for homes in Mid-Town Belvedere is $210,163 while the average monthly rent is $855. 
The Bottom Line
There are more up-and-coming neighborhoods in Baltimore and the ones listed above are just some of those that have shown tremendous potential in recent years. In the end, the best neighborhood is the one that fits your lifestyle, budget, and needs.