The Investors Guide To Baltimore Rental Property Maintenance
The investor's guide to Baltimore Rental Property Maintenance is an overview broken down season by season to maintaining your rental and full infographic below!
Despite what many people think owning a rental property is not a passive income stream unless you've got a great property manager working with you. You should set aside a portion of your rental proceeds to cover preventive maintenance. In Baltimore, there are guidelines for landlord and tenant responsibilities for the maintenance of rental property. Keeping your rental maintained should be your top priority. This guide will give you an overview of what items you should review as well as a few pro tips on how to better manage the process and catch any issues throughout the year.
Pro Tip: "Every battle is won before its ever fault "Sun Tuz- The Art of War.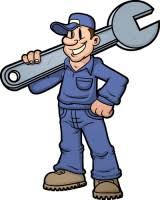 Winter items.
There is a chill in the air, and you don't want to be out in that so that is why you need to take make sure that you take care of the most important things on the list.
Pipes: Make sure that any pipes that run along exterior walls are insulated and that your exterior water spigots for the garden hose have been drained.  Pipes that are left unused and with water in them can freeze and burst.
Doors and Windows– Make sure that they have a good seal not only will your Resident appreciate this, but it will also keep your HVAC system from being overworked improving its lifespan.
Roof: Snow and ice are heavy and the weight of that on an old roof can lead to a roof collapse so you should have older roofs inspected for structural integrity as well as having the seals around vent pipes and chimneys checked. You don't want water coming in when the snow starts to melt!
Fireplaces and Chimneys: should be checked and the chimney swept to ensure that there are no blockages.
Spring items:
Hopefully, you got through the winter okay! Now its time to focus on keeping whats outside the property outside!
Gutters: Make sure that your gutters are clear! Leaves and debris can clog gutters allowing for water to enter the property.
Check for mold: Water build up on the surface of walls or water leaking into the property can cause mold to grow. If you find any mold you should have a professional inspector assess the situation. Mold can be toxic and harm residents if not properly handled.
Landscaping– Great curb appeal means lower vacancy times for vacant properties as well as showing current Residents that you care about the property. Mulching, planting flowers, and trimming hedges and bushes are all great ways to improve the eye appeal of your rental.
HVAC: Have the system inspected, serviced, and cleaned once a year, now is the best time for that!
Spring cleaning tips to pass along to your Residents:
Dusting: starting from the top of the room at the top of the house, Dust! Windows, ceiling fans, doors, and places you may miss during everyday cleaning.
Clean the walls- Wipe down walls using a little bit of vinegar mixed in with water with a dye-free sponge to remove scuff marks and dirt from the walls.
Carpets: Use a carpet cleaning machine or for really great tenants pay for a carpet cleaning service to show your appreciation for being a great resident to keep the carpets looking fresh!
Windows: Wash the interior and exterior of the windows to remove built up dirt and debris.
Summer Items:
Its hot outside and if you've taken our advice for the previous seasons it should be nice and cool inside! In the summer pests like to build their nests.
Pest control: Pests love to build their nests when it gets warm. To help prevent them from entering your property you should make sure that all the seals around the windows are doors are still tight. Also, check for cracks in any exterior walls including the siding and brick. Make sure to remove any bee or wasps nests around window sills and make sure you look out for any wasps that may be in hiding in the ground and in the attic.
Common areas: Make sure that they are clean and free of debris!
Landscaping: Trim back bushes and dead trim branches from trees especially around windows and your roof.
Pro Tip: Your lease agreement is your income! Make sure that you renew leases annually and always try to go for a renewal in the warmer months, properties move much quicker in the warmer months.
Autumn Items:
As the warmer months draw to a close you will want to make sure that you pay close attention to the following:
Exterior: Check the bricks and the siding for any cracks or loose pieces.
Roofing: Visually inspect the roof for loose or missing shingles.
Pests– Again?! We know! They don't call them pests for no reason! Make sure that any holes, cracks, doors, etc. are sealed and able to be closed tightly. Vent pipes for the dryer and furnace should be properly sealed so that small critters and pests can't crawl through them into your property.
Gutters: Make sure that they are free of debris and any blockages that impede water flow away from the property.
In this last section we will cover basic quarterly items:
Smoke and C02 detectors:  Should be tested to make sure that they are working properly.
Filters: Check all the HVAC filters, dryer lint traps, utility sink drains, water filters to be sure that your Resident is maintaining them.
Pro Tip: When you lease the property, leave four HVAC filters next to the HVAC unit and send them a message every three months reminding them about the filter change.
Pro Tip: Always take batteries with you when you check the smoke and carbon detectors  so that you can replace them if needed on the spot
Overall cleanliness– It is important that your resident keeps the property clean and sanitary. This will reduce wear and tear and that means less for work for you when it comes time to turn the unit.
Pro Tip: Always document your move-ins and outs with pictures and during your quarterly assessments take pictures of and note damages. You should always have the Resident sign all inspection reports.  
Interested in learning how a professional Baltimore property management company handles maintenance? Contact HomeWorks Property Management Today!
Check out our guide- Maryland Rental Property Safety Checklist 
The Investors Guide To Baltimore Rental Property Maintenance full infographic here: